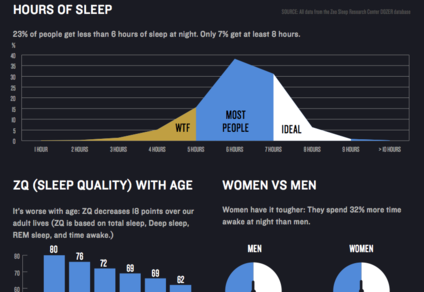 Some stories are easier to tell than others.
We learn not to touch a hot burner because it hurts like hell. It's obvious.
Sleep is not obvious. It wastes you away slowly if you don't get it, and half the time you won't even notice because we're too hopped up on caffeine.
When the guys at Zeo sent me a Personal Sleep Coach, I already knew a lot about sleep. But I knew there was a bigger idea here. So we made this infographic for you that tells the whole story, and why it matters.
Oh! I also convinced them to give away a free Zeo, which Tim Ferriss talks about (along with paleo diets, etc.) in the 4 Hour Body.